THERMOFORMING
HOW DOES IT WORK?
Thermoforming is a technique that consists in taking a thermoplastic sheet and placing it on a frame in order to heat it to soften it prior to molding The resulting parts can meet the most demanding requirements and retain the properties of the chosen material. At DX Plastiques, we use one of three thermoforming processes depending on the part to be produced:
THE STEPS OF THERMOFORMING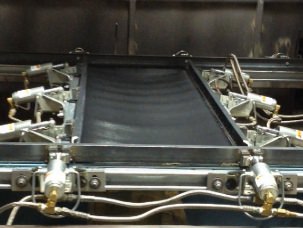 Heating of plastic sheet in oven
Removal of plastic sheet from oven
Molding and shaping of part
Cooling of part
Demolding
OUR THERMOFORMING EQUIPMENT
Our thermoforming technology allows us to mold plastic sheets measuring 64 inches long by 48 inches wide, for manufacturing parts up to 24 inches high and from 1/32 to ½ inch thick.
We use the following equipment:
Hydraulic system that can be operated manually or automatically
Digitally controlled ceramic-element furnace
Twin-deck oven
Dual temperature control by section