PLASTIC MATERIALS USED IN THERMOFORMING
DX Plastiques
In the field of thermoforming, there is a wide range of materials that can be used to make various parts. We use thermoplastic materials that warp when in contact with heat.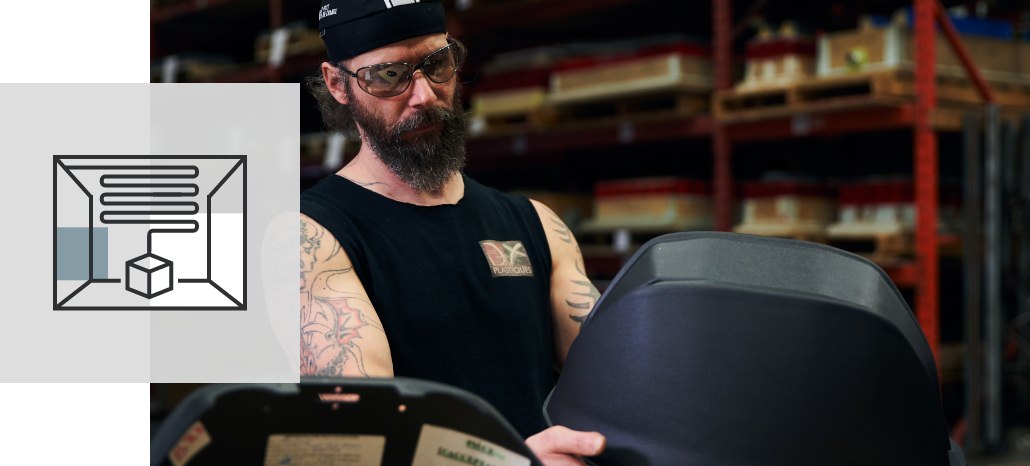 The most used polymers in this field are:
Acrylonitrile butadiene styrene (ABS)
Polyethylene (PE)
High impact polystyrene (HIPS)
Polyvinyl chloride (PVC)
Polymethyl methacrylate (PMMA)
Polycarbonate (PC)
Polypropylene (PP)
Polystyrene (PS)
It is also common to use combinations of several polymers (ABS-PMMA, PS-PE) most of which are recyclable. The reuse of recycled plastic is common practice and of important economic interest.
HOW DO YOU CHOOSE THE BEST POLYMER OR POLYMER BLEND FOR YOUR PROJECT?
Several elements will be taken into account when choosing the best polymer to use for your thermoformed part:
Frictional resistance,
Impact and wear resistance,
Resistance to extreme temperatures,
Resistance to chemicals, oils and gasoline,
UV resistance,
Compliance with food standards,
Compliance with safety standards (fire behaviour, electrical insulation),
Anti-slip capacity,
Sterilization capacity,
Rigidity or flexibility,
Dimensional stability,
Surface appearance: smooth, grained, shiny, matte, frosted, mirror, etc.,
Aesthetics: transparent, diffusing, opaque, colour,
Microbiological resistance (microban),
etc.